(A) Shop Hop Bunny - December 2018
CLICK TO OPEN PRODUCT!!!
Congratulations!! You found it!
Please remember us for your quilting purchases:
- All orders over $150 are shipped for FREE **;
- We will happily special order items we don't carry;
We are always here to help! Just drop us an email!
PLEASE CLICK ON PICTURE TO REGISTER YOUR BUNNY WITH FABSHOP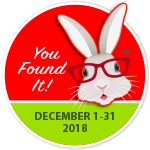 ** Domestic USA orders over $150 will be shipped for FREE; International orders over $150 will receive discount.
LOADING IMAGES
You may also be interested in...